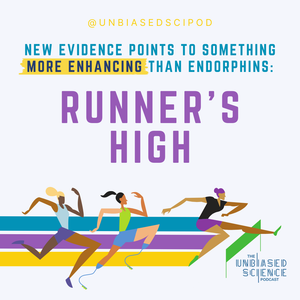 Unbiased Science Explains The Runner's High
Getting high on exercise? It might be closer to reality than you think.
Elite runners are a different breed of athlete. Their ability to withstand the stress of repetitive high impact movement is a testament to what the human body can handle.
Runners often make it look easy, and some even feel that their bodies are almost making running easy for them. There is an indescribable feeling sometimes associated with running; it doesn't happen often, but it is a brief, blissful, and almost calming sensation. When this happens, it elevates the run to a whole new level. What causes this "body and head high" among runners?
Many attribute this sensation to endorphins. However, several recent studies that specifically blocked endorphin uptake in the body found that runners still felt more relaxed and experienced less pain following a run, suggesting that something other than endorphins must be involved.
A class of molecules called endocannabinoids may be involved in or contribute to runner's high.
Endocannabinoids are chemical components of the Endocannabinoid System (ECS) and are found naturally in our bodies. These chemicals are produced and bind to receptors in our brain to help to regulate different bodily functions to maintain physiological homeostasis; including learning, memory, appetite, and pain tolerance.
During and after a run, anandamide (an endocannabinoid) is produced, floods the body, and binds to cannabinoid receptors, which may in turn create this "runner's high" feeling in the brain. This endocannabinoid signaling may in turn promote recovery (by improving emotions, pain, and bodily temperature) following intense or prolonged exercise. (Yes, this is a similar pathway involved when partaking in THC-containing products).
Endocannabinoids may give endorphins a run for their money (pun intended) as these studies help to understand the role these molecules have on our ability to run and perform other activities.
Sources:
---